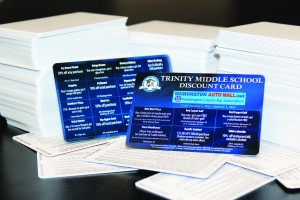 Fundraiser cards are often the most cost effective and simplest way to help boost funds for your organization. Typically with Fundraiser card designs, the name of the organization is on the front of the card with supporting graphics. You can also add additional information such as; expirations date, motto, schedule of events, contact information for your organization and the price of the card. The back of the card will have a list of local merchants, with the promotion that they have decided to extend to your patrons. Some cards also have a signature panel on the back of the card, so that the cards are non-transferable. With this security measure, the client will need to show some type of identification to the merchant.
One key factor in fundraiser discount cards is to make sure you look at your target audience. Fundraiser cards are often used and sold by high school or college students. You wouldn't want all of your promotions to aim at high end sales. For example $100 off a furniture purchase of $500 of more, or $20% off meal purchase (minimum purchase $200.00) these promotions are a waste of time and space on the card for your audience. However with feedback from your buyers, you can increase sales. How about, free chips and drink with the purchase of a 6" sub on Tuesdays. Local stores and restaurants are typically more than willing to offer promotions to help out the community and also increase their revenue due to the increased traffic.
The goal of these cards is to raise money! So let's take a look at the numbers. You first need to set a goal for your organization, and then determine how many cards each person will aim to sell. On average most groups target the card selling cost at $10.00-$20.00. Again, the more people you have to sell the cards – the higher the profit. So if there is a group of 30 people, and each person's goal was 10 cards, your potential profit is over $29,000. With your total cost for the cards is $710. See below for a few more examples, the card price being $10.00.
250 cards: $195, potential profits of $2500.00
500 cards: $270, potential profits of $5000.00
1000 cards: $370.00 potential profits of $10,000.00
3000 cards: $710.00 potential profits of $30,000.00
As you can see from the above figures – the discount card is definitely a great way to help raise money for your organizations. So what's holding you back? Round up your merchants and have an awesome kickoff party to start your new fundraising adventure!