Home > Plastic Cards > Smart Cards
Smart

Cards

The Smart Card Advantage
A smart card is a plastic identification card containing electronic memory, and in some cases, an embedded integrated circuit (for RFID models). They are sometimes called "smart id cards" or "rfid cards" depending on the smart card vendor. More security conscious businesses (like the medical profession) are using the benefits and advantages of smart cards to ensure the id of employees every year.
Plastic smart cards come in two types — contact smart cards and contactless smart cards. Contactless smart cards only require close proximity to a reader to enable the transmission of identification data, commands and card status, hypothetically taking less time to authenticate versus contact smart cards. Both reader and card have an internal antenna that securely communicates with the other.
Plastic Smart ID Cards Available:
Contact
AT AT24C16
AT AT24C64
ATMEL AT5577
ISSI ISSI24C02
ISSI ISSI24C128
ISSI ISSI24C16
ISSI ISSI24C64
Contactless – RFID
FM FM1302T
ID TK4100
ISSI M1 ISSI4439
ISSI M1 ISSI4469
PHILIPS DesfireD41
PHILIPS I-CODE2
PHILIPS S50
Benefits of Contact Smart Cards
Contact smart cards must be inserted into a smart card reader. The reader makes contact with the card module electrical connectors that transfer data to and from the chip. This physical contact permits the transmission of data, commands and card status and enhances security by requiring the card holder to be present for identification.
Advantages of Contactless Smart Cards
Contactless smart cards are embedded with an integrated circuit chip. They provide not only memory capacity, but computational capability as well. The self-containment of a contactless smart card makes it resistant to attack as it does not need to depend upon potentially vulnerable external resources. Because of this characteristic, smart cards are often used in different applications which require strong security protection and authentication.
RFID Smart Card
Radio frequency identification (RFID) is a generic term that is used to describe a system that transmits the identity (in the form of a unique serial number) of an object or person wirelessly, using radio waves. A RFID system consists of an antenna and a transceiver, which read the radio frequency and transfer the information to a processing device, and a transponder, or tag, which is an integrated circuit on the plastic smart card containing the radio frequency circuitry and information to be transmitted.
System Frequency Ranges: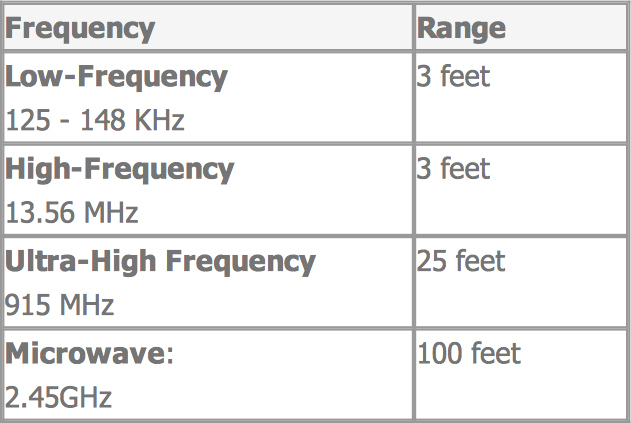 MIFARE® Card
A MIFARE card is a type of RFID. Philips has developed MIFARE MC1 1C S50 and MIFARE MC1 1C S70 to be used in contactless smart card according to ISO/IEC14443A. The MIFARE system is designed for optimal user convenience (as in the medical field, where people often have hands full and benefit from hands-free RFID convenience). The high data transmission rate allows transactions to be handled less than 100ms.
MIFARE is a trademark of NXP B.V.