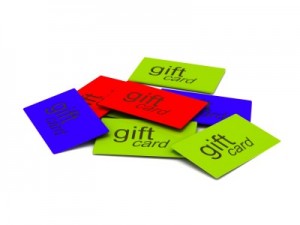 While Christmas is undoubtedly the time of year when gift cards are exchanged fast and furiously, don't think they aren't popular other times of the year. Printing plastic cards for a gift card campaign can boost opportunities for repeat business, and potentially lead to additional loyal customers. Promoting gift cards for products or services can be a boon to business all year long.
Plastic Card Campaigns That Give Back All Year
A great place to start with marketing your gift card program is to your existing customer base. It stands to reason that if they are happy with the services or products you provide, they will want to let their friends and family know about them. Since that friend or family member probably isn't a regular patron of your establishment, you have the potential to create a long-term customer. Just by selling gift cards, you're constantly generating leads.
In particular, this works well with restaurants. Even with hundreds of choices, most people tend to frequent the same establishment time and time again. If one of your customers gives a friend or family member a gift card for their birthday, the recipient will at first feel obligated to use it. But that's when you as a business owner have a chance to shine and show them why they should come back again and again. That goes part and parcel with doing business.
Gift Cards Aren't Just For Christmas Anymore
We do associate gift card giving with Christmas, but did you know that many retailers sell the most gift cards around Valentine's Day? Not surprisingly, Victoria's Secret sells a lot of gift cards around this recent love-themed holiday, and you can be sure that once that gift card runs out, the recipients will still be frequenting those stores.
Add to that list birthdays, when it's always easier for people to choose a one-size-fits-all gift card rather than chance selecting the wrong thing, and it's easy to see why you should consider plastic card printing of gift cards to help bring you business leads all year long.