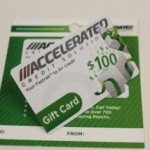 Say "plastic" during a thrilling game of word association, and people will probably respond, "cheap," right? And I get that. Plastic, in many cases, is manufactured to eventually be thrown away. (We'll save the environmental conservation discussion for another time.)
But, I do have some good news. When it comes to plastic cards, you actually can be discriminating. They aren't all made equally. However, the bad news is that you can't tell a quality plastic card just by looking quickly at the front.
So, if you're thinking about plastic card printing, there are four things you should inquire about before placing your order to ensure getting the most reliable and durable cards.
Ask about the cut.
Good plastic cards will have clean, rounded cuts around the entire edge. Rough, bumpy edges are an indicator of "cut-rate" plastic. (Sorry, couldn't resist!)
Ask about the acronym.
There are many types of plastics used for making cards, including PVC (polyvinyl chloride), PETG (polyethylene terephthalate) and ABS (acrylonitrile butadiene styrene). ABS is the highest quality of all, and it's definitely the right choice for frequently used plastic cards, like credit cards, smartcards, ID cards, membership cards and loyalty cards. You need the extra durability.
Ask about the grade.
PVC itself comes in many different grades and types. For the best gift card and single-use card printing (crisp, hard-wearing design), you want to make sure your manufacturer is using grade A PVC.
Ask about the printer.
There are several types of printing presses that are used to print plastic cards, but not all create a good product. Heidelberg remains the best in the business, delivering the very finest printing quality available. Eco-friendly ink is a plus.
If you check out these four key areas before placing your order, chances are you'll get the quality of plastic card you're looking for. Then, you can focus on what design features will work best for your business!