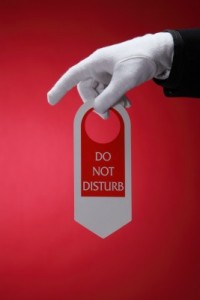 Do not disturb! It's probably the first phrase you think of when you hear "plastic hotel door hanger." Although this was the original intent of plastic door hangers and door lock cards at hotels, smart hoteliers have found other uses for them, ways to take them from beyond the simple "do not disturb" and turn them into additional branding pieces for the hotel.
Going Beyond Do Not Disturb: Other Plastic Door Hanger Uses
Pet(s) in Room
I recently came across this use of plastic door hangers while staying at a Residence Inn in Pittsburgh, PA. As a housekeeper, I'm sure it's sometimes an unwelcome and potentially dangerous surprise to find a pet in a room when entering. Using a plastic door hanger or lock card to notify hotel staff that there is a pet in the room can go a long way toward avoiding these surprise.
Please Clean My Room, Later
On the opposite end of the spectrum from "do not disturb," is the need for the room to be cleaned. How often have you wanted your room cleaned, but also wanted to sleep in. I once had housekeeping knocking on the door at 8 a.m. to clean my room! Create a plastic door hanger that states, "Please do not disturb, but please come back later."
Request Specific Services
Pair a plastic door hanger with a dry erase marker or wax crayon, and you've turned it into a green way to collect information from guests. Turn the plastic door hanger into a restaurant menu and take guests' room service orders for breakfast. Or building off of the housekeeping idea, have you ever just needed an extra towel or an extra bottle of shampoo, but not a complete room cleaning? Create a reusable plastic door hanger where guests can mark which amenities they are running low on, or which housekeeping services they are in need of. This could also help reduce housekeepers' time unnecessarily cleaning entire rooms.
Unique Plastic Door Hanger Marketing Opportunities
Give Your Guests Something to Talk About
Make an impression on your guests by offering a uniquely designed plastic door hanger. The Cosmopolitan in Las Vegas, NV, in partnership with Flaunt Magazine commissioned world-renowned artists to create door hangers for the hotel and an accompanying art exhibit of large-scale versions of the door hangers.
One of Boston's most luxurious hotels, The Liberty Hotel, is housed in a refurbished 19th century prison. They incorporate the prison theme throughout the hotel, such as with the naming of their restaurants, CLINK, Alibi and Catwalk. The theme is also used on the plastic door hangers which simply state "solitary" instead of "do not disturb." In fact, these plastic door hangers make such an impression that guests have even mentioned them on review websites such as Yelp.
Embassy Suites engaged with their guests several years ago through a "do not disturb" slogan contest. The winning slogans included:
Shh! I'm hatching a plan to bust some little soaps out of here.
Pillow Fight in Progress
There are days when I wish I could wear this around my neck
I've built a pillow fort and I am not opening the door for anybody!
Aww, Mom. Just five more minutes. Please?
In-House Promotions
Use the plastic door hanger as a way to convey discounts or as a coupon. Ask guests to show their door hanger at the hotel bar or restaurant for a discount or give a discount code that could be used for a future stay or given over the phone for room-service.
They are also an effective way to promote the upcoming entertainment schedule for your lounge or entertainment venue. For resorts, this could be a great way to convey recurring events such as the pool schedule or happy hour.
What interesting uses of plastic door hangers have you seen when traveling?
Read the previous post in our Summer Travel Series,Hotel Key Cards, a Free Souvenir.