Printing on plastic offers a number advantages, including durability, translucency, and the ability to create crisp die cut shapes. If you're new to print lingo, die cuts are custom shapes and cutouts that deviate from the standard business card form factor. Well-integrated die cuts can add dimension to your design, strengthening brand identity. Here's a few die cut business cards that caught our attention:
The Comb Card – This highly creative business card from a rock-n-roll inspired hair salon in Rome is functional and also plays a classic rock tune with a swipe of the finger. Sorry, we can't print this one.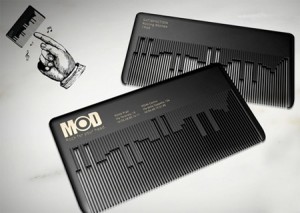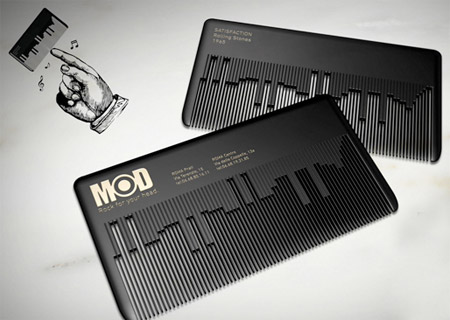 The Sticker Card – This imaginative design has a lot going on, but the designers at Tactix Creative have brought it all together. The material is clear PVC that includes a notched die cut on the lower left and a two-color peel-off sticker. Dare to be different!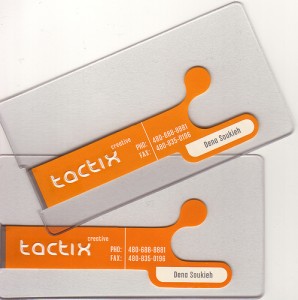 The Logo Card – At first glance, this elegant card for Patrick Love Photography appears to feature an abstract, flowing design, but a closer look reveals the photographer's recessed initials. The white internal edges of the die cut add contrast to the card's subdued surface colors.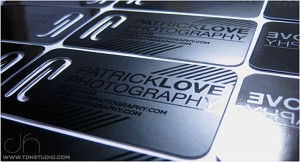 The Square Card – Who says business cards have to be rectangular? The shape of this card is evocative of Adlucent's motto: "Better Every Day." Adlucent is a company that strives to innovate, and their square plastic business cards are proof.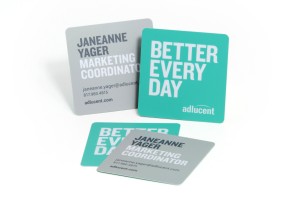 The "What the Heck?" Card – This business card is both made of plastic and made in plastic. According to the card's designer, Bazilian Pedro Kummel, the internal plastic business card is die cut and encased in acrylic. Impressive.