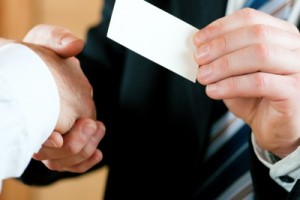 Whether you're just starting your business or you're a seasoned veteran, you've probably looked into or handed out business cards. And most likely it's been paper or maybe a paper laminated card. What you may not have considered are the advantages of using PVC plastic cards to promote your business.
In this week's post, I'll discuss the advantages of printing on plastic—durability and creative flexibility—and I'll share how to pick the right plastic card printer for you and your business. So before you place your next order for those generic paper business cards, read on.
Plastic Cards Offer Longevity
Business cards are a dime a dozen on the internet these days. OK, maybe 500 for $12, but you understand my point: You get what you pay for. And when you hand out a paper business card, there's a good chance it will get stuffed in a pocket or wallet, never to be seen again.
A PVC card, on the other hand, is more durable and won't end up crumpled, ripped and thrown away. That's not where you want your company to be! You want to have a card that potential customers will remember you by, not just a piece of paper that might get thrown in a binder, or worse yet, the trash.
Plastic Cards Offer Creativity
PVC plastic cards can offer many more creative options versus the traditional paper card you see in the photo above. Clear cards are possible and can make a good first impression—you want to be noticed! Embossing, while possible but difficult on paper, is an easy way to make your business logo stand out on a plastic card.
Also difficult on paper but easier on plastic is the additional of foil or metallic accents. Paper prints don't typically have access to silk screening or litho printing in-house and have to send out cards elsewhere for these special requests. Plastic card printers can handle those orders in-house, which also translates into getting your cards faster.
Tips for Selecting the Right Plastic Card Printer
When you're ready to the make the switch to plastic cards over paper, remember to do your homework first:
• Quality. Request samples from potential card suppliers. Not everyone will do that, and if they don't, it's probably a red flag.
• Reputation. Look for unsolicited customer reviews online. If they're overwhelmingly positive, you'll most likely have a good experience, too.
• Responsiveness. If someone from the company doesn't get back to within a reasonable amount of time, then they probably won't have a sense of urgency about your order either.
• Pricing. This isn't at the top of the list for a reason: Quality is worth a little extra. But, of course, price does matter. Make your decision based on quality first, price second.
I hope I've given you some things to think about concerning plastic business cards. If you're ready to make the switch, Plastek Cards can help. Contact us!
Image Credit: devor/123RF Stock Photo