With the advent of new technology and social networking, some say the business card is dead. We disagree. Even though you can connect with people on the spot via social networking apps on your smartphone, in real life when you're busy talking with a new contact you most likely won't immediately look them up and connect during your conversation. This is where the business card comes in. Exchange business cards and ask your new contact to connect with you. Even if they use an app like CardMunch to connect, the app still requires a physical business card to scan.
Stand out from the crowd with a plastic business card versus the traditional paper card. The plastic business card will look and feel different, and it won't rip, tear or crumple like its paper cousin. Below we feature five unique plastic business cards we've helped create for our clients.
Business: Adlucent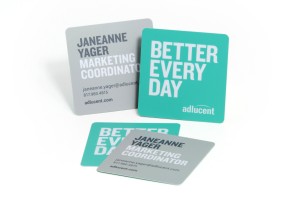 Special Finishes & Features Used: Square Die Cut Card, Frosted, Spot UV Ink, Frosted
This card is small, but bold. Minimal information, large text and obviously the square shape set this business card apart. It's difficult to tell from this image, but all of the white text on the front of the card has a clear glossy look (the Spot UV Ink), while everything else is matte. In addition to the square cut, business cards can be custom die-cut in a shape unique to your business.
Business: Hooah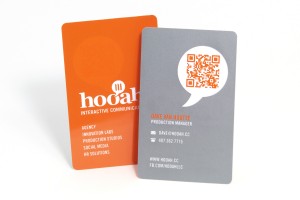 Special Finishes & Features Used: Metallic Ink, QR Code
The information side of this business card has shimmery metallic silver ink, and includes a QR code that will takes you to their company website. The other side is their bright orange company color. Both sides are attention grabbing and represent their brand perfectly. Just remember, if you decide to use a QR code on your business card, make sure your website offers a user-friendly mobile experience.
Business: Prime Real Estate Group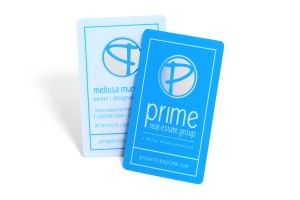 Special Finishes & Features Used: Clear Card, Frosted Finish
At first glance this plastic business card appears to be pretty simple in design. However, what sets this card apart and makes it unique is the use of clear card material and the negative space where the "P" is.  As you can see, using clear plastic card material can take a simple business card design and set it apart from the competition.
Business: Prominent HR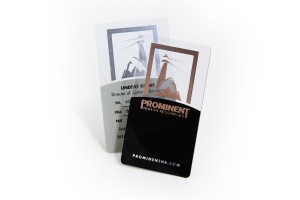 Special Finishes & Features Used: Clear Card, Silver Foil Stamping
Combining a clear plastic card with silver foil in the design of this business card allows the lighthouse logo in silver foil to be seen from both sides of the card. The card also uses a vertical format, which is much less common than a horizontal one (even though I do have 3 in this series!). Foil stamping on plastic cards is available in a variety of colors sure to match your business's personality.
Business: Skona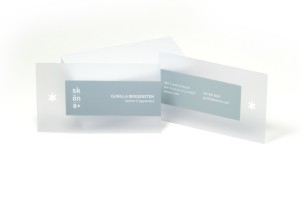 Special Finishes & Features Used: Clear Card, Custom Die Cut, Frosted
There's a hole in this card! And it's meant to be there. This company took an element from their logo, the asterisk/star, and had a custom die cut made with it. Different colors were used, all in the same muted palette over a clear plastic card, to distinguish between different departments within the company.
These are just a few examples of unique plastic business cards, and as you can see, the sky's the limit. With so many custom shapes and finishes available, you can choose any combination to create a truly one-of-a-kind business card for your company.