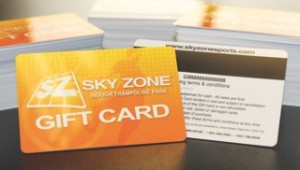 Just about every business you know (and probably all your competitors) has that clear acrylic display stand sitting right next to the check-out counter, filled with eye-catching but "unloaded" plastic gift cards. Naturally, owners and store managers put them there to catch the customer's eye and encourage the gift card purchase. You've done the same thing? I thought so.
There's certainly nothing wrong with this subtle approach. After all, that acrylic display may be the most profitable square foot of selling space you've got. But, sometimes it helps to shake things up a bit – preferably long before you experience a normal (or unexpected) business slow-down. A new approach to gift card marketing might be just what you need to boost revenues at key times throughout the year.
Reward loyalty and purchase amount. This might seem obvious, but I think a lot of businesses fail to include gift cards as one incentive in a customer loyalty or rewards program. They can also be used on-the-spot when a person spends a over a certain amount. What's really nice about this concept is that you can surprise that person with a gift card – a gesture that's sure to stick in his or her mind and encourage the return visit.
Use gift cards as coupons. When a customer is purchasing a high-dollar item, offer them a gift card that can be used right then and there. Again, this type of unexpected discount encourages customer loyalty and even evangelism. Don't be afraid of word of mouth. Offer the same "coupon" if a customer's friend or family member wants to buy the same type of item.
Couple gift cards with coupons. When people purchase gift cards at the holidays or for some other special occasion, have your latest coupon or promotional handy to give out. This might be all it takes to get that return visit.
Use gift card promos for less-popular holidays. It doesn't always have to be about Christmas. Give your business a boost during slow times by offing special gift card deals for quirky celebrations (Groundhog Day anyone?) or even special causes (Heart Month).
Work together with other local businesses. When small businesses team up, great things happen! Try joint gift card promotions with a business that's complementary to yours (chocolates and spa sessions make a great pair). Or, make gift cards from each local business in the co-op available in all participating stores.
Use the gift cards as part of a sweepstakes. Again, tie loyalty cards and gift cards together by making them part of a sweepstakes. Each time a customer swipes a loyalty card, he or she gets another entry in a big-ticket gift card drawing.
Offer gift cards as part of an upsell process. "If you're willing to spend this much more, I'll give you a gift card worth…"
Use them to build social media presence. Offer gift cards to your 1,000th follower or put everyone who tweets a special hashtag into drawing. You can even use them to encourage blogger to write about your establishment (with proper disclosure, of course).
Support a local charity with proceeds from gift card sales. Let customers know each time they purchase a gift card, a certain percentage goes to support a charity of your choice. Maintain a running total on your website and/or in the store to assure customers that the charity truly does benefit.
Provide customers with ideas on how to "wrap" gift cards. Although they are popular, gift cards are seen as somewhat impersonal gifts. So, display some really creative ideas that customers can use when they give the gift card away.
As with anything like this, it's critical to plan ahead. Right now is the perfect time to be thinking about fall and even holiday gift card promotions. (International Observe the Moon Day is slated for September 18. That sounds romantic!) So, start thinking about plastic card printing today!