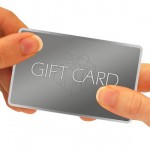 What are Gift Card Rescue Sites?
Have you ever received a gift card that you didn't want? Last Christmas your Aunt Martha gave you one to that restaurant you hate, and, for your birthday, your cousin remembered that Toys 'R' Us was your favorite store – when you were 10. You're now 25. Wouldn't it be nice if that gift could be turned into something that you might actually use?
That's the idea behind gift card exchange services. Also referred to as gift card recovery or gift card rescue services, these sites make it possible for you to sell the card you don't want (they will buy it from you) or exchange it, for a card you do want.
You will get a certain percentage of the cards value in return. The percentage you receive is based upon what type of card it is and the monetary value of it.
How does a gift card rescue site work?
Go to a gift card exchange website, and fill in the information about your card. Put in the name of the merchant, value and expiration date of your card. Most services will show you different offers available for that card. You decide which offer you would like, and they will give you instructions on how to send them the card. Once they receive it, your payment will be sent. Many services will mail your payment with 48 hours of receiving it.
Benefits of using Gift Card Recovery:
The obvious benefit of gift card rescue is the chance to trade in or exchange your unwanted cards. It's also a quick way to get some extra cash. These companies also sell them at discounted rates. For example, you might be able to buy a Target card for $46 that has a $50 value. It might not seem worth it to save only $4, but every little bit helps.
Where to find a gift card exchange service:
Some of the sites reviewed in writing this article that offer buying, selling, and exchanging gift cards:
Gift Card Exchange
Plastic Jungle
Card Pool
Gift Card Granny allows you to compare the percentage details of several different gift card exchange services to help you find the best deal.