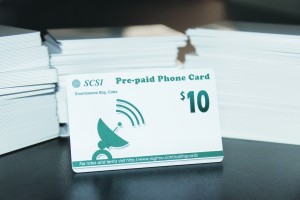 Companies have long used branded merchandise such as mugs, caps, pens and other items in attempts to keep their names in front of current as well as potential customers. But promotional pieces have more often than not been considered throwaway items of low quality, and not much use to the people receiving them.
You don't want to spend your valuable marketing dollars on promotional items that are here today and gone tomorrow, so why not give away something that will be used and appreciated. Prepaid minutes on high quality printed plastic phone cards are a great way to do just that.
When your prospects receive a plastic card with free phone time already on it, they feel like they have been given a gift with actual monetary value. Unlike a pen or a Frisbee, or other cheap promotional merchandise, this card will go straight into a wallet or purse where it will be kept and not thrown away or forgotten. And every time the recipient pulls that phone card out to make a call, you have a chance to present your company to them, again and again.
Here are a few tips for setting up your plastic phone cards to be an effective marketing tool.
Make sure the front of your card is eye-catching and delivers the message of what your company is about in a clear and memorable way. Since plastic card printing allows you to cover your card with full four-color printing, the sky is the limit for what you want to put there. Include the number of minutes on the card, of course, but save the majority of the front side of the card for a great first impression that makes the prospect want to learn more about you.
On the back of the card, include the call-in number for your phone card, but very close to that put your website address in a bold, bright color such as red or bright blue. If you don't have a website for your business, put your primary telephone number here. By putting this information right by the call-in number, you will remind the prospect of your contact information every time they look at the back of the card.
Also on the back of the card, you can benefit by printing a special offer that will entice the prospect to either go online or come to your store. You could offer a 10% discount or similar loss leader to prompt the prospect to take action, and they will be reminded of it every single time they use the card. Better yet, by including the special offer on your card you increase the chances that they will hold on to that plastic card long after they use up their prepaid minutes.
When you plan your next promotional giveaway, don't settle for trinkets with a high novelty factor but no long-term value. Keep your company, your message and your products in front of your prospects every time they reach for the phone, and start building your sales today. Click here to learn more about prepaid phone cards.