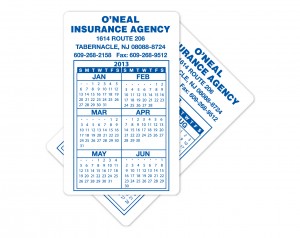 No matter what business you're in, you know that the key to increasing sales is staying visible to customers and getting their attention as often as possible. By keeping your message in front of your customers over and over again throughout the course of the year, it becomes that much easier to boost your revenue through people who think of you first when they need the types of products and services that you offer. One simple and effective way to ensure your company gets the attention that it deserves is by ordering wallet-size plastic cards with a yearly calendar printed on them. Here are a few tips to help you design calendar cards that customers want to keep year-round.
When you lay out your calendar, be sure to leave a little bit of room at the bottom for you to put a personal message. While you could put your company logo here, this will not necessarily give your customer an incentive to do more business with you. Instead, give them a prompt to think about your company for a moment and to consider what they might need to purchase from it. Having a phrase such as "Flip over this card to see 5 special offers" gives them a perfect incentive to think about buying from you again.
On the back of your calendar card, list a few truly compelling special offers or discounts that your customer will be sure to appreciate. You could offer specific discounts, or use the card itself as a coupon by printing scannable bar codes on the back. One other option is to print plastic cards that have scratch-off squares on the back that reveal extra discounts or offers. You have a lot of possibilities when it comes to plastic card printing, so spend some time thinking about creative ways to market using your calendar cards.
Finally, ensure that the calendar is more functional to the customer by adding little touches that make it easier to read. Shade the weekends so that the work week stands out. Add a bit of color to typical holidays or special days throughout the year. Or, better yet, link the offers on the back of the card to specific days, and then mark those days on the calendar by shading or changing the text color to something unique. This will give your customers one additional push to return to you again and again.
Many companies use a plastic card printing service to create calendar cards for them, but fail to scratch the surface of what can be done with them. By doing little more than printing a calendar along with a clever logo or business name, they do not create something the customer will keep and refer to year round. But by using the three tips above, and designing your card so that it has a strong call to action and an attractive calendar, you could bring in repeat customers and increase your income all year long.