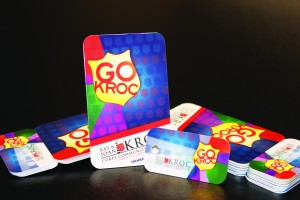 The cost of acquiring new customers is one of the most expensive things that businesses have to deal with. Getting the word out and sealing the deal on that first sale can cut into profit margins, so savvy businesses focus on compelling strategies to turn customers into repeat buyers. While there are many tools you can use both online and offline to encourage these multiple purchases, there is one tactic that can easily keep your brand in front of customers every day of the year: Those small plastic cards that attach to a customer's keychain.
These little marketing tools pack a big punch when it comes to reinforcing your brand and your offers.Let's take a look at a few tips to use these little plastic cards to the advantage of your business.
Use color wisely. While you don't want to use a garish color that discourages your customers from putting it on their keychain, you do want to use one that gets their attention frequently. Odds are high that your customers already have multiple key cards on their keychain from supermarkets, video rental stores, etc., so make yours eye-catching.Colors like green, blue, and yellow command attention. Avoid harsher colors like orange and red, unless these are specific to your brand.
Give customers a truly compelling reason to keep your card with them at all times, by tying a useful benefit to having the card on-hand. You could consider using your key card as a miniature version of a loyalty card, membership card, or fundraising card. Many grocery stores use this model successfully, giving die-cut plastic cards to their customers that consist of one wallet-sized card with one or two small key cards included. By using identical barcodes on both sizes, you can link the two to the same customer account.
Put an unconventional spin on an existing product. When customers purchase prepaid phone cards or gift cards, don't give them the typical plastic card they might be expecting. Instead, give them plastic key cards that they can take with them and look at conveniently whenever the need arises. Make sure your cards have useful information on them as phone numbers, business hours and even a website address where they can recharge their cards when they have used up the balance on them. Give them an incentive to continue using the card, such as a 10% bonus when adding credit to their key card online.
Plastic key cards can be an effective and inexpensive part of your company's overall marketing strategy, bringing in repeat sales from customers who are continually exposed to your message every time they reach for their keys. By keeping your brand in front of the customer, you reinforce the message it carries on an ongoing basis, keeping your business fresh in mind all year round. Consider the many affordable options for plastic card printing today and discover how this tiny tool can yield big results for your bottom line.