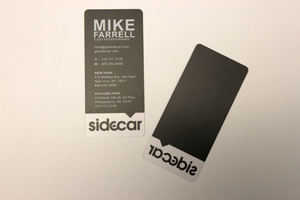 If you've started a new business,  plastic business cards are one of the best choices you can make to represent your new endeavor. They work great in leaving a lasting impression on the customer's mind, and they help in the growth of the business or organization. Business cards have always been among the most successful marketing tools.
In this modern era, businesses are searching for innovative methods and means to stand out among the competition and to be the first one the potential customer picks. Plastic cards give businesses and companies a chance to retain some individuality and uniqueness.
When it comes to investing in business cards, businesses mainly think about ones made of paper. However, businesses and organizations are slowly moving towards plastic business card designs, which have several advantages over business cards made of other stocks. Using plastic business cards is something that attracts the customers' attention—guaranteed. Some of the benefits are given below:
Business cards made of plastic are a good choice as they make a business stand out from others and a professionally-designed card says much about a business' specialty too. A well-designed business card encourages potential customers to pick it up and make an inquiry.
Plastic business cards are long lasting. Such cards definitely increase business profits.
They create a long lasting impression every time a you hand one out.
Plastic business cards give durability and stability that efficiently brand a company's or organization's individuality.
A plastic business card that looks and feels like a credit card has a perceived value. It increases the chances that the client will keep the card.
If you want to keep your business card from being tossed into the garbage, be sure it makes a lasting impression on the potential customer and conveys your message clearly. This means that when people look at your business card for the first time, they come away with a well-defined impression of the products or services you are offering.
If you are looking to get your business cards printed, consider plastic business cards this time.  You can choose from a wide range of finishes and options, ensuring your business card will stun your potential customers. Full-color plastic cards, as well as tinted translucent plastic cards with matte texture, can be printed. The tinted plastic business cards in particular diffuse light beautifully as it passes through, making it more attractive and appealing. You can easily order full-color plastic business cards online and know that this longer-lasting printing technique will make an unforgettable impression. Every single card produced is printed by using modern top-quality stocks and digital manufacturing techniques that guarantee your business stands out from the crowd.
Author Bio:
Guest blog post by Dow Printing. Dow Printing provides high quality printing of paper business cards, flyers, brochures, greeting cards and much more.