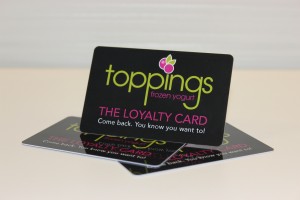 In my last post, I talked about some good reasons (at least, I think they're good!) why plastic cards should still be part of your customer rewards program. This week, I want to take things farther by encouraging you to consider what type of customer rewards program might work best for your business.
The Difference Between Rewards and Loyalty
But, before I do that, let me make a differentiation between customer rewards and customer loyalty. They aren't the same thing, even though the terms are often used interchangeably. (In fact, I'm using them interchangeably in this post.) Loyalty refers to a strong commitment (even devotion, perhaps) that a customer has to a particular brand. Loyal customers will buy a product, service or "experience" no matter what.
Rewards, on the other hand, are incentives a company may use to encourage people to try a new product, to visit or return to a brick-and-mortar, or to buy more in order to get a lower price. Unfortunately, rewards don't always equal customer loyalty, especially if your product or an in-store encounter (online or offline) doesn't measure up to the quality or experience the customer was looking for in the first place.
Plan Before You Start a Customer Loyalty Program
So, before you jump into plastic card printing, set the parameters for a customer rewards or loyalty program that's designed to please both you and your customers.
What do you already know about your customers? Think about the nature of your business and the circumstances under which people tend to buy your products or services. For example, if your product is seasonal or lasts for a long period of time, return visits or frequency of purchase would not necessarily be hot buttons; perhaps referral rewards would be better. On the other hand, if you own a local coffee shop or bakery, it makes perfect sense to offer discounts for frequency and amount spent over a particular period of time.
What do you want to know about your customers? This will determine what kind of data you collect when you hand out your plastic loyalty cards, as well as what type of data you track each time someone uses the card or redeems his or her rewards. Frankly, nothing is more important to your business and to the health of your loyalty program than being about to track and wisely use consumer data.
Whom do you most want to entice? Determine which customer types are the ones you want to cultivate and design a program based around their needs and interests in your products. Tiered-level programs (including those that center around experiences, such as service upgrades or special events) often work well and can meet the needs of the diverse individuals who use your products or services.
What do you want customers to do? Reward "loyalty" based on the behavior that's most beneficial for you AND what's most enticing for the customer. Don't forget, it's a two-way street, and the incentives must work for both parties. The answer(s) to this question can help you better define those who shop for rewards and those who are truly loyal to your brand.
How can you make it easy for customers? Make sure the system of rewards you've set up isn't too complicated or too difficult to redeem. Keeping it easy means customers are more likely to understand, appreciate and talk about the experience they've had with your brand and your program.
What can you offer that's different? Let's face it, rewards programs are a dime a dozen. To make a loyalty program work, especially in highly competitive retail or business-to-consumer industries, you'll need to get creative. For example, differentiate between customers at different levels in your tier system by giving them different cards and, more importantly, different perks. Or, spotlight customers each month on your site, in your e-newsletter or even in your store. Post a picture, thank them and make sure they feel noticed. And, let them share why they love your brand!
How will you acknowledge loyalty? Once of the most effective ways to build loyalty among customers is to build rapport. How often will you communicate with customers and in what ways? Have a good idea before you begin. You can always tweak it later.

If you already run a customer loyalty program, tell me what you wish you would have thought of before starting one. I'd love to hear about your experiences.