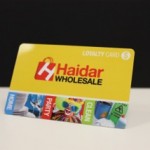 So, you've decided plastic card printing is the way to go with your customer reward or loyalty program. You've carefully planned how your rewards program will work, and you've incorporated some features that will help your business stand out.
In this fourth and final post in my loyalty card series, I'm going to address a question I often get from customers, "What are the must-have features when it comes to designing and printing my plastic cards?" And, I'll tell you what I tell them: it depends…
Some questions to consider at this juncture:
What kind of tracking software or system do you have and what are its requirements?
What is your budget?
What level of security does your business require?
How fancy do you want to get?
I will tell you that no matter how you answer the above questions, you absolutely need a clean card design with a high quality image(s). That's definitely a must-have!
However, beyond that, you can pick and choose features based on your business and/or data needs. I encourage you to browse the following information, which compares the most common plastic card options.
Magnetic Stripe vs. Barcoding. This really depends on the type of system you are using. Do you like to scan or swipe? Swiping is cheaper, but barcode scanning is generally faster and definitely more mobile.
Glossy vs. Matte Finish. This depends on your preference. Personally, I like the matte finish better because it showcases the design and allows it to stand out. Matte is also more resistant to scratching. But, glossy is cheaper. And, with a gloss finish, UV coating is standard.
Plain vs. Foil. You can never go wrong with simplicity. But, I will tell you that the metallic colors used in foil stamping really pop. And, adding it to your order isn't that much extra.
LoCo vs. HiCo. I'm talking about low coercivity (LoCo) and high coercivity (HiCo). These terms refer to the amount of magnetic energy it takes to record data onto a plastic card. LoCo requires less energy and is, therefore, more cost-efficient. However, LoCo can get damaged more easily than HiCo. For most loyalty or reward cards, which don't get used as often as a hotel key card, LoCo will work.
Tipping vs. Textured. If you want your card to include embossed numbers like you see on most credit cards, then tipping (which refers to the color of those embossed numbers) is for you. Textured, on the other hand, refers to a special ink applied to the plastic card to give it texture. This is a great feature to use if you want a specific word or part of a design to stand out.
Security features – such as UV light detection, signature panels, scratch-off PINs and holograms – are usually unnecessary with a customer loyalty card. I'll cover those in future blog post about ID badges and smart cards.
So, as you kick off your new customer loyalty program (or tweak your existing one), I wish you great success and lots of happy, returning customers!