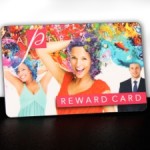 Customer rewards and loyalty programs are definitely big. Lots of businesses offer them with varying degrees of success. According to SmartMoney's Annamaria Andriotis and her article, 6 Reward Programs Worth Your Loyalty, American households participate in 18 rewards programs on average, and U.S. consumers hold about 2.1 billion memberships, up 60% between 2007 and 2011. On the flip side, companies spend more than $2 billion on loyalty programs each year. That's quite a chunk of change!
I think Andriotis nails the reason for the popularity among consumers: everybody loves free stuff. And, if you're a retailer, a rewards program is practically a necessity because, well, everybody's doing it. Like the once-exclusive but now-standard continental breakfast at hotels, people have come to expect stuff from just about every place they willingly spend money.
However, running a rewards program that truly benefits your business and your customers isn't as simple as just buying a few hundred plastic cards or asking people to like your Facebook page. It requires a good understanding of your products and, just as important (if not more important), the people who are buying them. Over the past year, I've read a lot of articles that encourage businesses to stop printing plastic cards and just go with social media, mobile apps or email to push out deals. And while I don't discount the effectiveness of any of these, you will likely leave out a large portion of your customer base by using any one method to the exclusion of all others.
Here are six reasons why plastic cards should still be an important part of any customer loyalty program:
Age of your customers. Digital communication is more pervasive with younger consumers, but not so much with older consumers. If your products appeal to consumers of different ages, then it's likely that digital communication and advertising won't work for everyone.
Digital communication bombardment. People can often feel overwhelmed by social sites, emails and more. Do you track your social media numbers, email click-through rates and coupon usage? I hope so. If you do, you'll probably see very quickly that electronic offers can be effective, but people are inundated with them. And that makes it very easy to overlook them. Plastic loyalty cards are tangible and easier for people to keep track of than that tweet you sent out a couple days ago.
Rewards for all customers, no matter why they buy. People will shop at your establishment because they need something, and not always in response to a coupon. A plastic card will ensure that these types of transactions are tracked, and customers still get rewarded.
Rewards for all customers, no matter where they buy. With the right tracking system, website tools and plastic card barcoding, it's easy for people to use their card wherever they interact with your business – online or at a brick and mortar.
A very personal brand experience. With plastic cards, you can track far more personal consumer data and, therefore, provide more flexible rewards based on people's individual preferences and interests. That's the kind of attention people love and that truly garners their loyalty.
A very visual reminder of who you are. Quality plastic cards are a great opportunity for branding and help people remember what your brand stands for.
Social media, apps and email can be effective, but they don't work for everyone. The right plastic card for your business can help you capture and integrate all aspects of your program and better reward each type of loyal customer you have. When combined with well-planned digital communications, plastic rewards cards increase the success of your customer loyalty program.